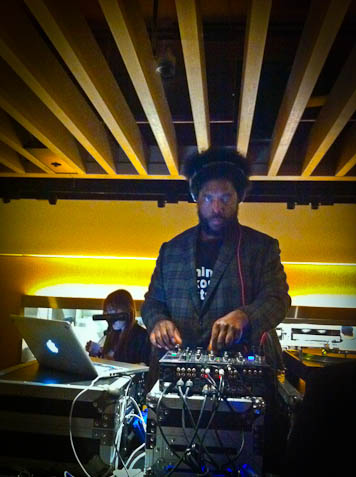 What do you say when you're invited to a New York City Wine & Food Festival fried chicken event hosted by Whoopi Goldberg and Chef Art Smith, and DJ'd by Questlove? You say "Hell Yes!" and "Thank you!". That's exactly what I said when the lovely lady tweeting behind @wholefoodsnyc invited me to the Shake & Bake event held this past Thursday at the Yotel's terrace overlooking the skyline of New York.
Before I get to the food, I have to say – DJ Questlove is a genius. The man not only makes some of the most delectable fried chicken (sadly not served at the event) but he is also an insanely talented DJ. I could NOT stop dancing while waiting to be handed my little plates of crispy heaven. All of course, while chomping down on another fried chicken leg.
Here are my fried chicken and dessert favorites, along with my choice of whisky, from that night.
My favorite, without a doubt, was Hill Country Chicken's Buttermilk Brined Fried Chicken served in a waffle cone with ancho honey butter and maple syrup by Chef Elizabeth Karmel. The chicken was warm and crunchy, the waffle was thin and crispy, and the butter was a perfect balance of spicy and sweet. In other words – these were crazy good! I could have eaten them all night long and now I'm excited to visit the restaurant in the city.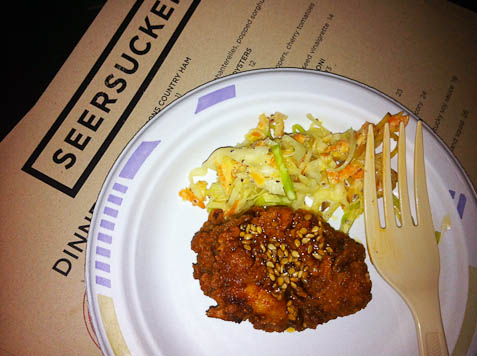 Next up, as a very close second, was Brooklyn's own Seersucker's Fried Boneless Chicken Thighs topped with Carolina benne seeds, Kentucky soy-sorghum dipping sauce and served with a Summer slaw. All cooked by Chef Robert Newton. The chicken was succulent, juicy, crunchy, sweet and mildly salty. I was excited to try the benne seeds, also known as African sesame seeds, since they were a new ingredient to me. It was a pleasure speaking to Chef Newton who also recommended an ideal Sunday brunch schedule – put our names on the list to be seated at Seersucker, pick up tea/coffee from the neighboring coffee shop and walk around the Carrol Gardens Greenmarket until our names come up. Sounds perfect to me, Chef!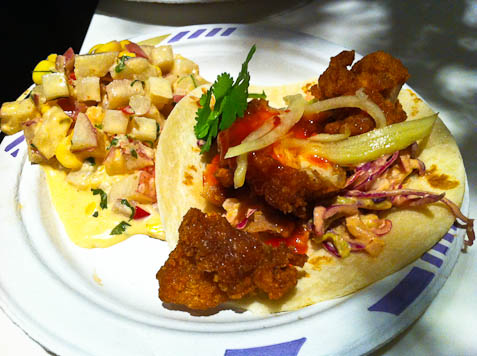 Chef Richard Sandoval, of the Richard Sandoval Restaurants, served up incredibly scrumptious Korean Fried Chicken Tacos with gochujang salsa and cabbage slaw with a side of a New Potato Salad made of roasted corn, red onion, potatoes and a caper aoili.  As some of y'all may know, as an ex-Austinite, I am a sucker for tacos; and these were amazing. I was also excited to try another new ingredient – gochujang, a Korean fermented red pepper chili paste – and I've already added it to my grocery list.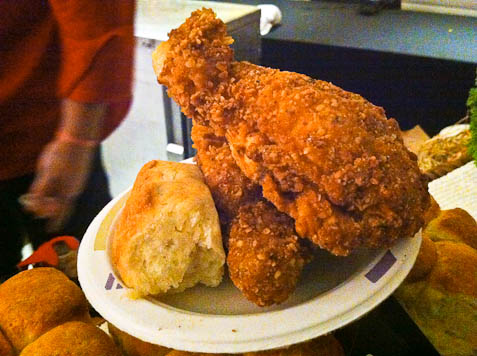 The delightful Chef Joe Dobias, of JoeDoe & JoeDough, served up Matzo Meal Spice Crusted Drumsticks with buttermilk biscuits and wildflower honey butter. The matzo meal made for a seriously crispy and tasty chicken. Just when I thought I couldn't eat more, I took a nibble off one of the buttery biscuits and, before I knew it, I had gobbled down two more. Lord help me.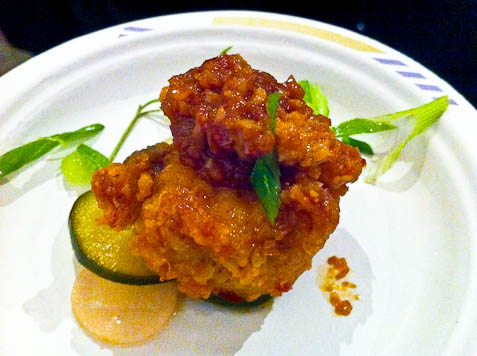 Chef Simpson Wong, of Wong, served us Malay Fried Chicken – coconut fried chicken with spicy sambal and a pickled cucumber salad. The crunch on the chicken combined with heat of the chili-based sambal and the coolness of the salad were a perfect balance of flavors.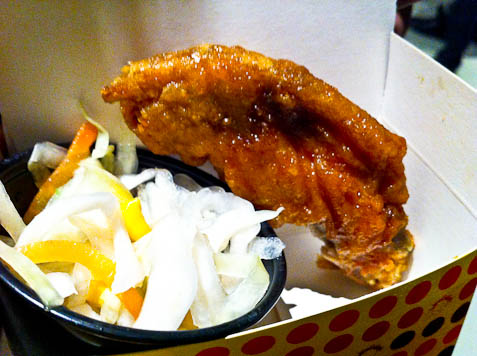 Chef Myung Jin Chung, of Mono+Mono, served a Korean Style Fried Chicken two ways – Soy Garlic or Spicy – with a Korean pickled cabbage kimchi. The skin on this chicken was super thin and crispy, and the chicken just feel off the bone. The spicy was indeed spicy.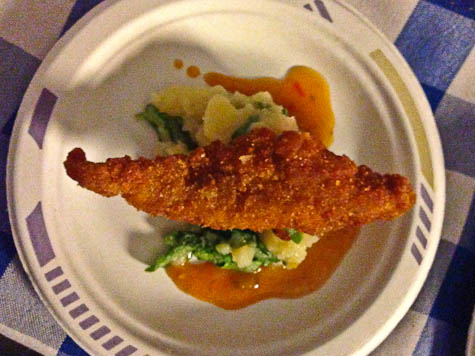 Chef Kurt Gutenbrunner, of Blaue Gans, served us Backhendl – a Viennese breaded and golden fried chicken – with a potato arugula salad. I liked the breading on the chicken; it was mild and went well with the salad. Not that I needed more carbs, but I couldn't get enough of the potato salad.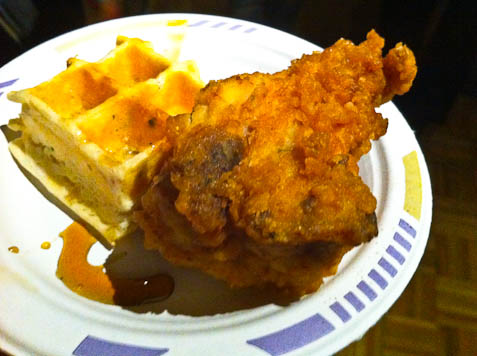 Chef Art Smith, of Table Fifty-Two, served us his famous Buttermilk Fried Chicken with Joanne Trattoria's Pecorino Waffles which were made with pecorino cheese, crispy salumi and topped with maple syrup. The chicken, although somewhat cold, retained it's crunchiness. I bet this would be scrumptious served piping hot. Chef Smith, who recently completed on Top Chef Masters, was super friendly and generous with photographs. He also gave the warmest hugs to all his fans (i.e. me).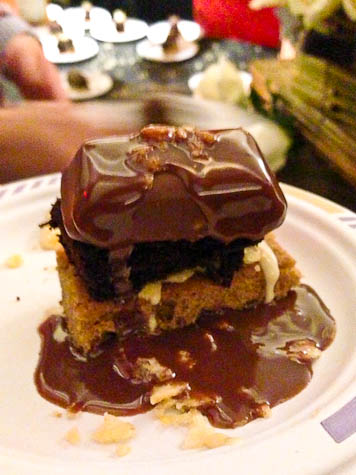 Now on to desserts. Chef Thiago Silva, of Catch, served us Liquid Klondikes covered with hot chocolate sauce, potato chip crunchies, devils food cake and chocolate potato chip cookie. I love anything chocolate but this was even better than I was expecting it to be. It was perfectly gooey, chocolatey and crunchy. Each bite was different and more exciting than the previous. (Photo by
Tarah Feinberg
.)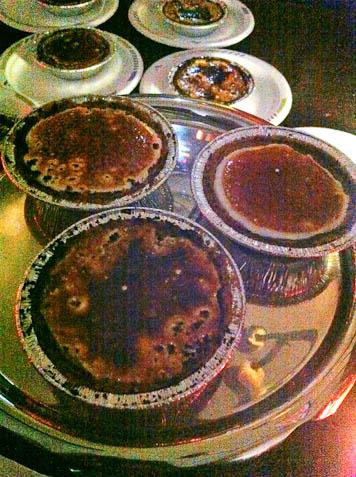 Allison Kave, of First Prize Pies, served up S'Mores Pies made with graham cracker crusts, milk chocolate custard and homemade toasted marshmallows. Homemade marshmallows? Scrumptious!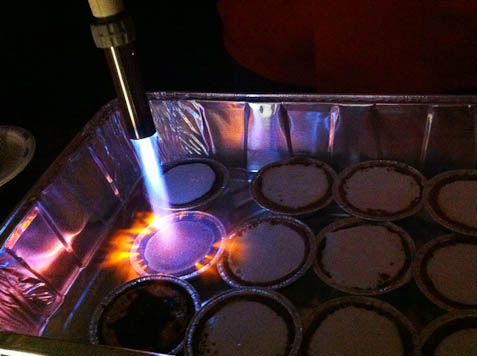 First Prize Pies definitely gets the first prize for adding a "wow factor" to the event with their pyrotechnic showmanship. It was fun to see them caramelize the sugar on each pie using their propane torch.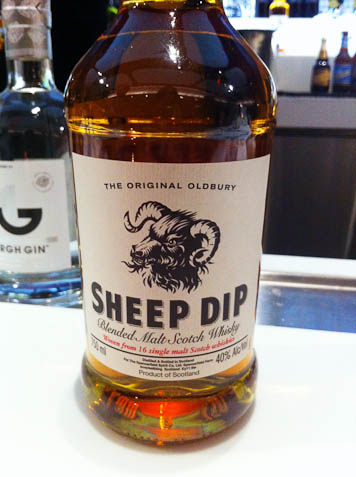 My drink of choice during the evening was Sheep Dip's scotch whisky served on the rocks. It's a smooth full-bodied blended whisky made from sixteen different single malt whiskys, each aged in oak casks for eight to twenty years. It gets its name from the time when local farmers would hide their homemade whisky from tax officers by storing it in casks marked 'sheep dip', an insecticide used to delouse sheep prior to sheering.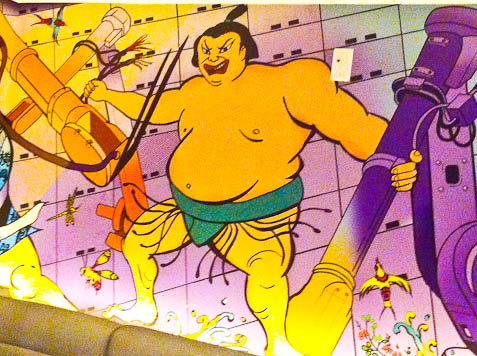 And, lastly – the Yotel had some interesting decor. They even had an image of what I imagine I would look like if I was a sumo wrestler and you took away any of the above fried chicken away from me.
Thank you for reading! Let me know what your fried chicken recommendations are. Yep – I'm ready for more!
~Anjali