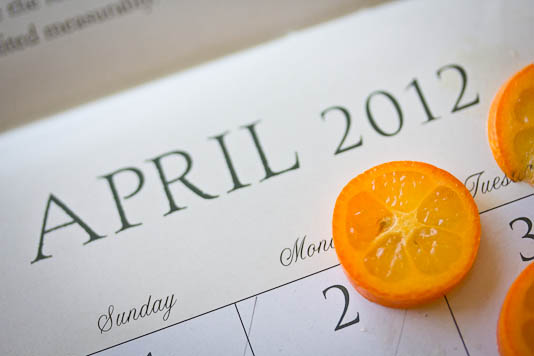 April was a busy month filled with many perfect food moments. Here's a recap of the top 5 – (1) I attended the Time Out NY Food & Drink Awards, (2) saw Dave Arnold, of Momofuku's Booker & Dax, talk about his passion for culinary technology while he made bright green Thai basil cocktails, (3) learned how to make popcorn shaped ice-cream from a molecular gastronomist, (4) had headshots taken for the blog, and (5) ate kumquats for the first time. All very exciting!
April 2: Time Out New York 2012 Food & Drink Awards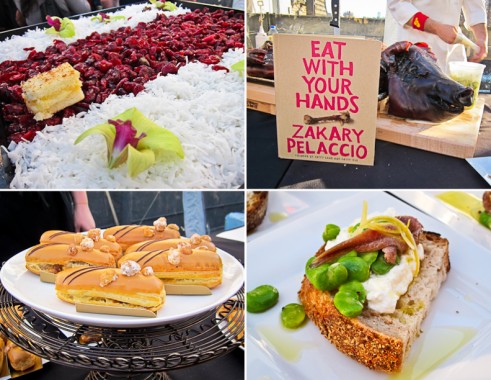 I had the honor and pleasure of attending the 2012 Time Out New York Food & Drink Awards – an annual event that celebrates New York's finest chefs, restaurateurs and bartenders. It was a lovely evening hosted at the Skylight West and, as expected, there were tasty bites and sips all around.  We started out by nibbling on the beautifully displayed passed hors d'oeuvres; my favorite being the crispy grilled cheese mini-sandwiches served on a bed of dark red currants and shaved coconut.
Next came culinary treats from some of the nominees. Il Buco served freshly baked crostinis topped with soft ricotta cheese, salty anchovies and fresh fava beans. Fatty 'Cue had an impressive table with a whole pig (head 'n all) from which they served their tender tangy pork sliders. For dessert, the crowd favorite was definitely Dominique Ansel Bakery's Snickers bar éclairs made with chocolate, caramel, and salted peanuts.  New to this year's category of nominations, and a sign of our digital age, was the "Foursquare Award" for the restaurant that had the most check-ins. Dennis Crowley, co-founder of Foursquare, presented the award to The Dutch.
Here's a gallery of photographs and a list of Readers' Choice winners. I've added most of them to my "Must-eat At Immediately" list. Which ones are you adding to yours?
Chef of the Year: Seamus Mullen (Tertulia)
Best New Restaurant: The Dutch
Best New Cocktails: Maison Premiere
Best New Neighborhood Joint: Red Rooster Harlem (Harlem)
Best Spin-off: Parm
Best New Pizza: Forcella
Best International Eats: Miss Lily's (Jamaica)
Best Out-of-Town Import: Fleisher's Grass-Fed & Organic Meats (Kingston, NY)
Best New Bakery: Dominique Ansel Bakery
Best New Beer Bar: La Birreria
Foursquare Award: The Dutch
April 4: Dave Arnold of Booker & Dax @ Lucid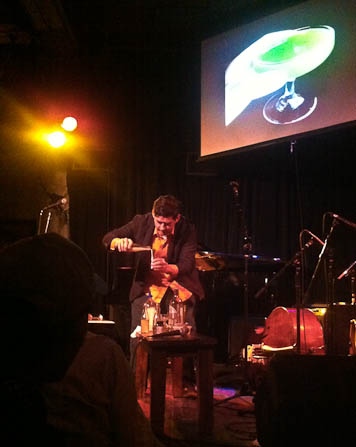 Dave Arnold is a cocktail genius who uses technology to distill the purest form of flavors. He's David Chang's partner in Booker & Dax, the new cocktail bar at the back of Momofuku Ssäm Bar and is currently the French Culinary Institute's Director of Culinary Technology.
I saw him speak at a cool event hosted by Lucid, where his passion for technology, techniques and ingredients was palpable. He started out by showing us how to distill the purest flavor of lime juice to make the perfect gin & tonic. He then showed us how to make a Bangkok Daquiri, the Thai basil signature cocktail from his bar. Here's a video of the event. I wish my chemistry classes in college were as interesting as this. I'll be swinging by the bar soon to savor this Kermit-green drink. Who wants to join me?
April 13: Frozen Popcorn by Mihir Desai @ the Umami Festival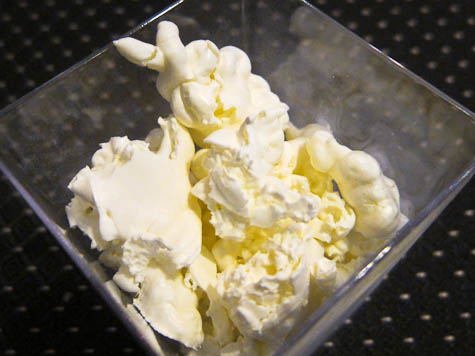 I was introduced to Mihir Desai and his molecular cuisine at an event during the Umami Festival here in New York. It was a pleasure tasting the numerous ice-creams he had made from some of the most interesting rice – Himalayan Red, Venere, Mekong Flower, Forbidden, Bamboo and Basmati to name a few. But the most exciting part of the evening was learning how to make popcorn flavored and shaped ice-cream using liquid nitrogen, and then actually making it myself. Check out the pictures to see how its made.
Desai holds a Grand Diploma in Culinary Arts from the French Culinary Institute and is experienced in numerous molecular and experimental culinary techniques.
April 14: Headshots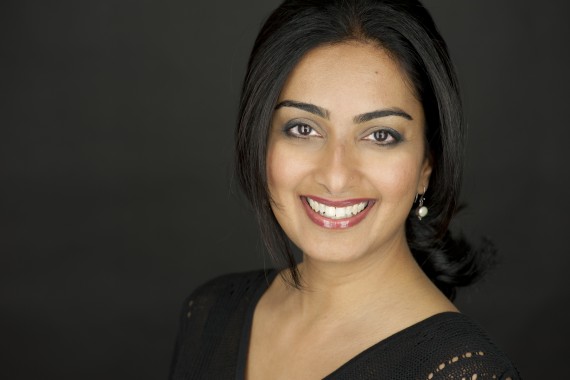 As Perfect Morsel gets more attention, I thought it best to get headshots for publicity and for the site. I had a wonderful photo session with David Alberto Reyes and now I'm sifting through the pictures to pick my favorites. David is not only an awesome person but he's a gifted photographer and an equally amazing coach. During our session, he spent a good amount of time patiently teaching me various techniques on how to pose, including the art of squinting. Stay tuned to see which one I pick for my About page.
April 28: Kumquats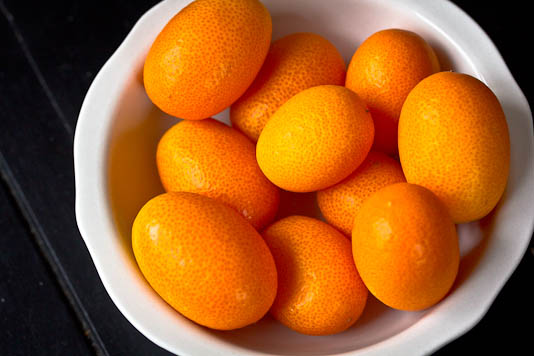 I ate kumquats for the first time! I've always been intrigued by the tiny orange fruit and finally decided to try them out as dessert for a dinner party I threw. I served them 3 ways – raw, candied in simple syrup, and baked to make kumquat dried fruits. Stay tuned for a post dedicated to these delectable citrus jewels that are still in season.
Hope April was a food-fun month for you as well! Looking forward to what May has in store.
~Anjali