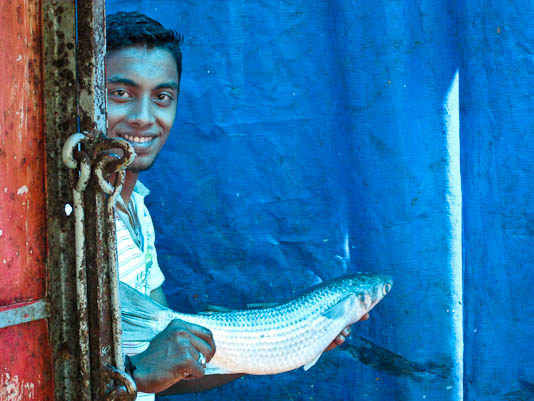 A couple of years ago, my parents and I traveled through Kerala, the spice capital of India. On our last day in Kochi, my father and I decided to veer off the recommended list of restaurants to explore the harbor at Fort Kochi. I had recently read about the beautiful Chinese fishing nets that lined the sea-front and all I could think about was – where there are fishing nets, there are fish. And – I was right.
There was shack after shack of some of the freshest seafood for sale right near food carts where we could have it all cooked. As my father and I weaved in and out of the shacks, sharing our ritual of feeling the fish for firmness, smelling the shrimp for freshness, and lifting the crabs for weight, I realized that I had inherited his sheer joy of just being around seafood. Soon, armed with a large crab, a pound of shrimp and two pieces of my favorite fish, pompfret, we were determined to eat like the locals.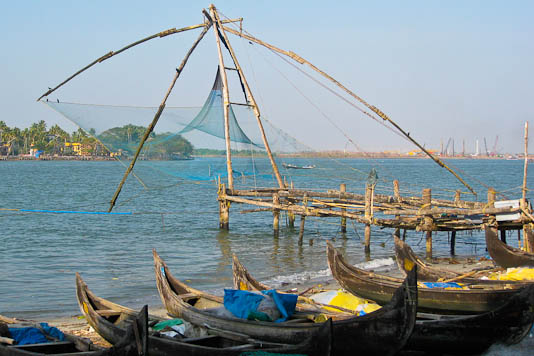 Jamal, one of the young fisherman insisted we eat at his boss' food cart – "he is the best, he has been here the longest, he is everyone's favorite, and his name is Muhammad Ali." He threw in an extra grin when he said his name. At first, weary that he would lead us astray to a tourist trap, I hesitated but his cheerful and playful instance won us over. And, with a name like Muhammad Ali, my growling stomach and I couldn't resist.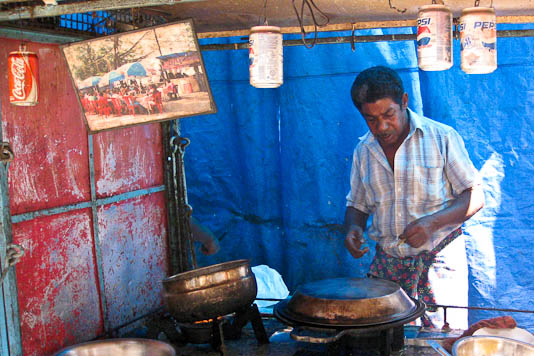 He excitedly led us across the street to a red and blue food cart decorated with Pepsi cans and old photographs where he introduced us to Muhammad Ali. As I asked Ali a few questions about his cart, I could tell he was not as generous as Jamal with his smiles and had a confident "take it or leave it" aura about him, which made me want to "take it" even more.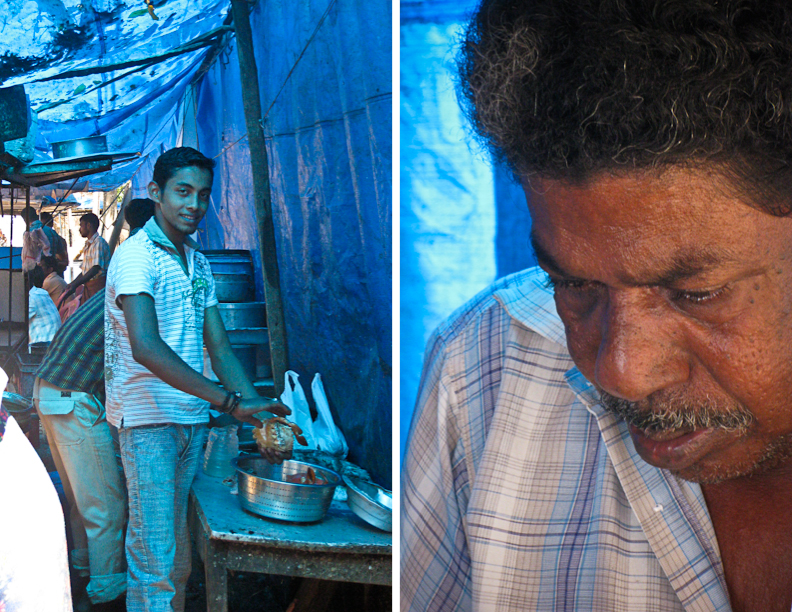 Jamal cleaned the seafood under the shade of a bright blue tarp and I watched Ali skillfully cook with furrowed brows. As I asked him a few more questions, I began to see that, under the non-smiling persona was a man who took a lot of pride in his food, his cart and his country. A fisherman himself, Ali had decided many years ago to expand his business to make more money and do something he really enjoyed – cooking his family favorites. I asked if he would cook our seafood the way he would want to eat it and, with no hesitation or questions, he proceeded.
He began by boiling the crab in water seasoned with black pepper, the spice Kerala is most famous for. According to Ali, the heat of the pepper was a perfect match to the sweetness of the crab.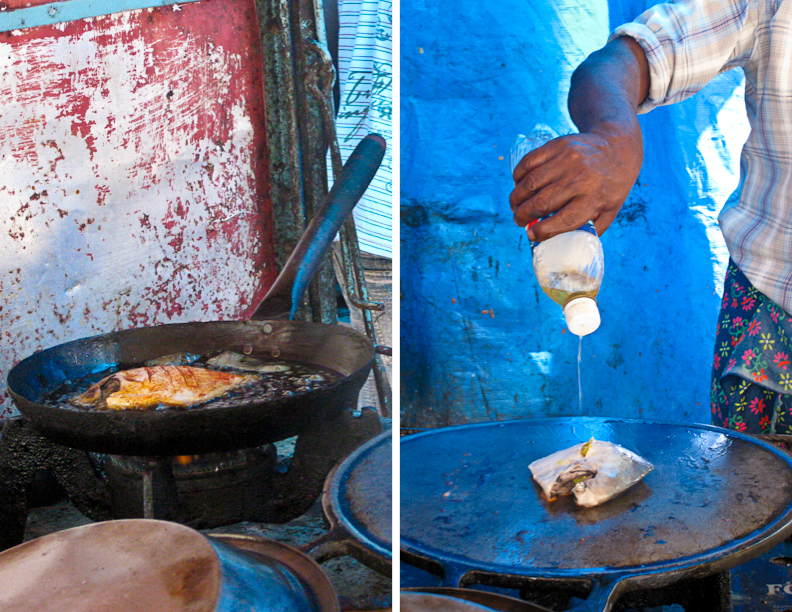 Next, he coated one of the pieces of fish with a special Kerala spice mix of ginger, red chili powder, turmeric, black pepper and fried it in a cast iron skillet. As the spices sizzled in the oil and their aromas intensified, I understood why fried fish is such a quintessential part of Kerala cuisine. Next, he marinated the other piece of fish in a simple but potent garlic paste and placed it on a hot tawa, an iron griddle, with vegetable oil.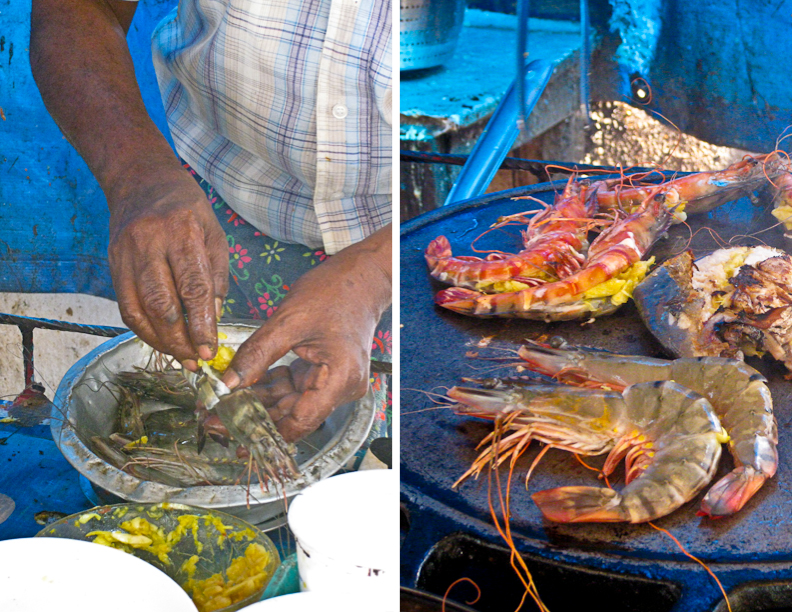 He then hand-packed each deveined shrimp with a coarse paste of garlic, turmeric, vinegar and oil, and placed them on the griddle right next to the fish. I was so excited to see him cook the shrimp with their shells and heads on. Apart from lending a roasted flavor to the shrimp, the shells stop them from burning, keeping them extra juicy and locking in all their incredible flavor. And, if you haven't eaten a shrimp head… you are definitely missing out!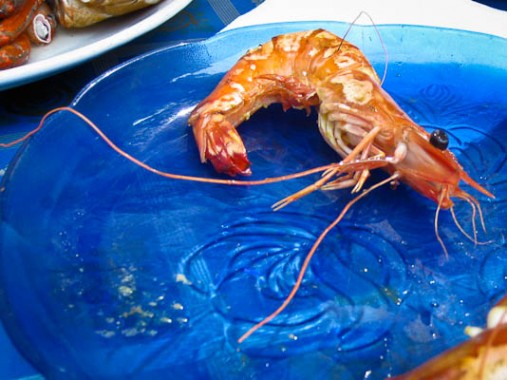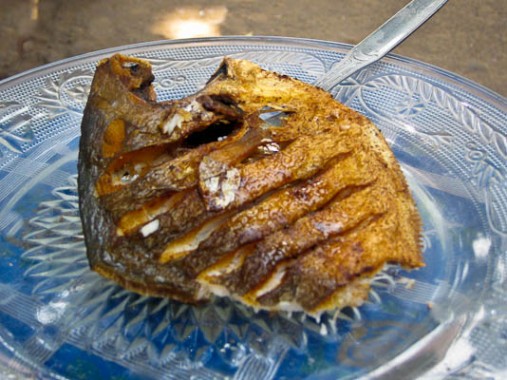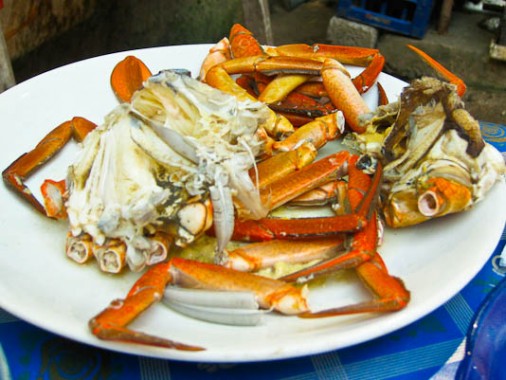 He served all of the above with white rice and thin slices of lemon. Dad and I sat at plastic tables right next to Ali's cart on a makeshift pavement by the road. The passing cars, bicycles and scooters dissolved away as I rolled up my sleeves, shunning any silverware, and joined him in breaking apart peppery crab shells, peeling spicy garlicky shrimp and pinching pieces of crispy succulent fish as we devoured one of the best meals I have ever had.
If you find yourself in Fort Kochi, make sure to look for Muhammad Ali and Jamal. Next time you're on vacation, make sure to veer off that recommended path.
And, remember to send me a postcard or write to me! I'd love to hear your stories of delicious morsels and food carts that you've stumbled across during your travels.
~Anjali